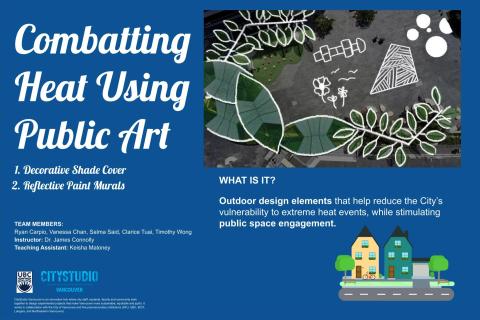 For years, SCARP students have had some of the most innovative and community-inspiring ideas to spark change and wellbeing in the larger community. Recently, SCARP students Ryan Carpio, Vanessa Chan, Salma Said, Clarice Tuai, Timothy Wong had one of the neatest ideas in a while: 
Their PLAN 351 (Green Cities) course group project, "Combatting Heat Using Public Art", shows how public art can play a role in responding to climate change impacts such as extreme heat events, including right here in the City of Vancouver. 
This project has now been showcased as one of City Studio's (Vancouver) Hubhub featured projects this year. In collaboration with the Vancouver Board of Parks and Recreation's Services Manager, Luke Balson, the project aims to mitigate the Urban Heat Island Effect (UHI) through outdoor design elements by incorporating public art, while also stimulating community engagement in public spaces.
The details
Student member Ryan Carpio remarked in his personal announcement on the achievement:
Special shout out to Salma Said, Clarice Tuai, Timothy Wong, and Vanessa Chan for being such an amazing group and for giving me the opportunity to collaborate with each of you on this meaningful project during my final semester at The University of British Columbia. As well, special thanks to Dr. James Connolly and Keisha Maloney for their support, feedback, and guidance!