Introduction
Honoured friends and relatives,
As Chief of Musqueam Indian Band, I welcome the Community and Regional Planning students that have come to the University of British Columbia, located on the traditional, unceded lands of hən̓q̓əmin̓əm̓ speaking Musqueam people.
Through a strong partnership, the SCARP program incorporates Musqueam's award-winning Comprehensive Community Plan (CCP): nə́c̓aʔmat tə šxʷqʷeləwən ct (We are of One Heart and Mind). First created in 2011 and updated in 2018, we are working hard to implement the Musqueam CCP recommendations and realize our community vision.
Whether you are new to this territory or have lived here for many years, on behalf of Musqueam, I hope you enjoy your time learning and living in Vancouver.
Thank you all, hay ce:p q̓ə
Chief Wayne Sparrow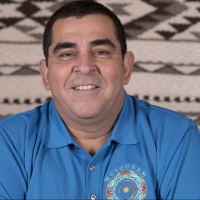 The Indigenous Community Planning (ICP) Program is a concentration within the dual-accredited MCRP program, and has been designated a noteworthy practice by the Planning Accreditation Board (PAB).
Overview of ICP
Indigenous peoples everywhere have been stewards of their lands and resources, planned their communities, and passed on teachings since time immemorial. The Musqueam people revitalized this tradition in 2011 by creating a Comprehensive Community Plan (CCP). In February 2013, Musqueam's CCP was recognized by and included on UN Habitat's website as a Best Practice plan for sustainable community development.
SCARP is honoured to be in a teaching and learning partnership with the Musqueam Indian Band in the design and delivery of the ICP concentration. This concentration attracts both Indigenous and non-Indigenous students, from a range of academic and professional backgrounds, who want to work with Indigenous communities. Ten committed students are accepted each year to enter into this concentration.
| | |
| --- | --- |
| ICP was a Public Sector finalist in 2016's Land Awards | ICP video commissioned by the Real Estate Foundation of BC |
Our intent is to train a new generation of community planners who will break with the colonial legacy and culture of planning in order to work in respectful partnership with Indigenous communities.
We seek to equip emerging community planners with the necessary theory, skills, knowledge, and capacity to support Indigenous communities in achieving their own aspirations for land stewardship, cultural revitalization, strong governance, health and well-being. 
Our approach is grounded in community and land-based learning, emphasizes mutual and transformative learning, and integrates these principles with grounding in Indigenous worldviews (ways of being, knowing, and doing).
Our scope is Canada-wide, but focuses on practical learning with/in First Nations communities in BC, where historical legacies as well as current political, economic and demographic realities present numerous complex issues, including governance, resource management, land use, health, education and employment.
ICP Concentration Design
Students in ICP complete a modified set of general MCRP requirements plus a set of ICP-specific requirements. Foremost, this includes undergoing a Practicum (instead of the Planning Studio) which partners pairs of students with an Indigenous community for eight or more months to work on a planning project (typically a comprehensive community plan).
ICP students complete the program requirements over two academic years and six academic terms.
Throughout the ICP core curriculum and practicum, students will explore:
The meaning and significance of Indigenous planning as a re-emerging theory of action among Indigenous community planners, civic leaders, and professionals
Values underpinning Indigenous approaches to community development
How an Indigenous planning paradigm challenges existing planning practice in Canada
How mainstream planning needs to adapt to achieve recognition of and justice for Indigenous peoples
Challenges faced by First Nations in BC when implementing projects in their communities
The impacts of surrounding jurisdictions (municipal, provincial and federal) on Indigenous planning
The impacts of First Nations community development (social and economic) on surrounding jurisdictions
Knowledge and skills needed for working with/in an Indigenous community
Concepts, praxis, methodology, and ethical/cultural considerations regarding decolonizing planning
The role of non-Indigenous planners in Indigenous community planning and development
Required Courses (as of 2022/2023 academic year)
Code
Credits
Description
Required for
MCRP?
Required for
MCRP-ICP?
PLAN 500
3
Comparative Perspectives on Planning History and Futures
X
X
PLAN 501
3
Reconciliation and Planning
X
 
PLAN 502
3
Sustainability and Resilience in Planning
X
X
PLAN 504
3
Urban Design and Visual Representation
X
X
PLAN 505
3
Planning Theory, Values, and Ethics
X
X
PLAN 506
3
Information and Analysis in Planning
X
X
PLAN 507
3
Engagement and Facilitation for Planners
X
X
PLAN 511
3
The Legal and Institutional Context of Planning
X
X
PLAN 512
3
Urban Economics, Infrastructure, and Real Estate Issues in Planning
X
 
PLAN 513
3
Making and Implementing Community and Regional Plans
X
 
PLAN 514
3
Indigenous Planning: Ways of Being, Knowing, and Doing
 
X
PLAN 515
3
Indigenous Law, Governance, and Community Planning
 
X
PLAN 516
3
Planning for Community Economic Development
 
X
PLAN 540
6
Planning Praxis
X
 
PLAN 541
6
Planning Studio
X
 
PLAN 543
12
Indigenous Community Planning Practicum
 
X
TOTAL CREDITS (not including elective requirements):
42
42
ELECTIVE COURSES (no more than 6 credits may be at the undergraduate level, i.e., 300/400):
18
18
TOTAL CREDITS:
60
60
Electives (as of 2022/2023 academic year)
Electives can be courses within SCARP or in other departments that relate to the student's interests. No more than 6 credits of undergraduate-level (300-400) courses will count towards your MCRP program.
Some recommended electives outside of SCARP
Please note:
Some courses will need to contact the course instructor and/or department offering the course for permission to be registered
Course offering and availability are subject to change by the School offering the course. 
Courses can be taken at other universities through the Western Deans' agreement.

Course Code
Course Name
ANTH 540A
Sacred Geography
APBI 361
Key Indicators of Agroecosystem Sustainability
BAPA 580
Topics in Policy Analysis
BAUL 500
Real Estate Markets
CIVL 598P
Pedestrian and Bicycle Facility Design
COM 486X
Urban Resilience
CONS 528
Social Science Research Methods and Design for Natural Resource Management
FISH 506F
Traditional Ecological Knowledge in the Fisheries Management - Current Topics in Fisheries
FISH 506G
Economic Foundations oof Environmental Policies
FNIS 501A
Indigenous Theory and Method(ologies)
FRST 522
Social, Community, and Indigenous Forestry
FRST 551
Landscape Planning for Sustainability
GEOG 535
International Migration and Settlement
GEOG 560A
Economic Geography
GPP 507
Environmental Law and Policy Frameworks
GPP 541
Policy Dimensions of Energy Systems
GPP 543
Sustainable Water Systems
GPP 544
Economic Foundations of Environmental Policies
GPP 581
Behavioural Foundations for Public Policy
GPP 582
Public Engagement in Policy Decisions
GPP 584
Policy Responses to Global Climate Change
GPP 591A
Designed Leadership for Change
GPP 591C
Lind Initiative Seminar
GPP 591D
Special Topics in Public Policy
GPP 591N
Power and Practice
GRSJ 415
Critical Racial and Anti-Colonial Feminist Approaches
GRSJ 511
Difficult Knowledge: Ethics and Pracis of Research in Challenging Settings
LARC 553
Green Network Planning
LARC 582
AutoCAD Workflow for Landscape Architecture Construction
RES 520
Climate Change: Science, Technology, and Sustainable Development
SOCI 423
Sociology of Food
SOCI 425
Urban Sociology
SOCI 540
Social Inequality
SOIL 516
Urban Watershed Management
SOIL 518
Water in International Development
SOWK 44C
/529A 001
Communities, Social Development, and Community Organizing
SPPH 552
Risk and Communication in Public Health
UDES 505
Urban Design as Public Policy: Policymaking for a Sustainable Region
UFOR 495
Biodiversity in Urban Areas
URSY 510
Urban Systems and Society
URSY 520
Urban Systems Planning and Analysis
URSY 550
Infrastructure Asset Management
SFU course: 
REM 606
Indigenous People and Co-Management
SFU course:
REM 607
Indigenous Governance and Resource Relationships
Course Structure (as of 2022/2023 academic year)
Year 1 Term 1
Year 1 Term 2
Year 1 Summer
Year 2 Term 1
Year 2 Term 2
Year 2 Summer
PLAN 500
PLAN 505
 
PLAN 516
PLAN 511
 
PLAN 502
PLAN 506
 
----------PLAN 543----------
PLAN 504
PLAN 507
 
 
 
 
PLAN 514
PLAN 515
 
 
 
 
Elective(s)
Elective(s)
Elective(s)
Elective(s)
Elective(s)
Elective(s)
More information:
The People of ICP
Graduates from the ICP concentration work for Indigenous nations, at local municipal planning departments, provincial and federal agencies, consulting firms, and non-profit organizations. Graduates from the ICP concentration have found work within a range of communities and organizations including but not limited to:
Beringia Community Planning Inc.
Castlemain Group
City of Edmonton
City of Vancouver
City of Victoria
Department of Fisheries and Oceans
EcoPlan International
First Nations Health Authority
First Nations Land Management Resource Centre
Hupacasath First Nation
Indigenous Services Canada
Kwikwetlem First Nation
Musqueam Indian Band
Nishnawbe Aski Development Fund
Ontario Trillium Foundation
Province of British Columbia
Sahtu Land Use Planning Board
Squamish Nation
Sumas First Nation
Taku River Tlingit First Nation
The Firelight Group
Toquaht Nation
Tsleil Waututh Nation
University of British Columbia
University of Calgary
Urban Native Youth Association
Vancouver Coastal Health
Leona Sparrow,
Musqueam/UBC Liaison
Leona Sparrow is the Director of the Treaty, Lands and Resources Department at Musqueam Indian Band.  Leona provides invaluable teaching and direction to all aspects of the ICP program.

Leonie Sandercock,
Professor and Co-Chair
Leonie Sandercock worked in partnership with the Musqueam Nation to design and deliver the ICP curriculum and establish the financial support for the ICP program, which she chaired from 2012-20, and later co-chaired with Dr. Maggie Low. ICP will always be what it is in part due to Professor Sandercock's wisdom, heart, and vision.

Maggie Low,
Assistant Professor and Co-Chair
Maggie Low is a community engaged scholar and Indigenous planner who has worked with First Nations and Indigenous organizations across Canada. She joined SCARP in 2019 and now co-chairs ICP

Jessie Hemphill,
Part-Time Instructor
Jessie Hemphill is an Indigenous Planner with over 10 years of professional planning and facilitation experience with Indigenous communities across Canada. She is a partner at Alderhill Planning, an Indigenous consultancy, and joined SCARP in 2019 as the ICP Practicum Instructor and as a practicum supervisor.

Shauna Johnson,
Adjunct Professor
Shauna Johnson is an ICP grad and a member of the Ts'awout First Nation, now working with WASANEC. She is a practicum supervisor.

Scott Graham,
Adjunct Professor
Scott Graham is Associate Director and Director of Research with the Social Planning & Research Council of BC and has worked extensively with BC First Nations. Scott is a Practicum supervisor.

Crystal Reeves,
Adjunct Professor
Crystal Reeves is a lawyer and Associate with Mandel Pinder LLP and teaches the Indigenous Law, Governance, and Community Planning core course for ICP.

William Trousdale,
Adjunct Professor
Will Trousdale is the Principal and founder of EcoPlan International, an award-winning Vancouver-based consultancy. Will teaches the Strategic Planning for Sustainable Community Economic Development core course for ICP.
More ICP Infosources:
Funders
SCARP gratefully acknowledges funding from the Real Estate Foundation of BC (2012-2022); Indigenous and Northern Affairs Canada (INAC) (2016-2021); the Teaching and Learning Enhancement Fund of UBC (2011-2014); and the Faculty of Applied Science, without whose generous support this program would not exist.
Some more words about ICP
"The Indigenous Community Planning program (MCRP-ICP) is the leading example of its kind in Canada, and perhaps North America. Given the extraordinary circumstances of Indigenous land claims in British Columbia, this program is a vital offering for the Faculty, University and Province to meet their Reconciliation obligations and new responsibilities stemming from the adoption of the UNDRIP. SCARP and the collaborating First Nations should be commended for the long and difficult work to establish the partnerships required to deliver this important program." 
-Planning Standards Board representatives during their 2022 accreditation of MCRP program