Earlier this month, the School and dignitaries from BC community organisations gathered together, to hear the final findings and proposals of the consulting students of SCARP's Planning Studio. Far more than a series of presentations, these exhibitions bidirectionally discussed actionable next steps for the complex challenges first posed by our community partners to SCARP for consideration.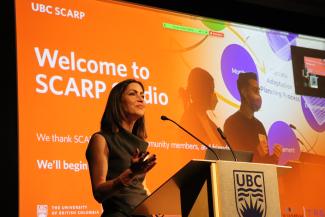 By definition, all Studio projects tackle difficult problems that are complicated not only to resolve but to fully understand and then relay to a broader lay audience. This last piece is crucial, as governments and other organisations whose actions affect the broader public hold a due diligence to spread awareness, reasoning, and transparency, making the larger community a part of what's happening. That's why it's crucial that SCARP's Studio students deftly translated these complicated problems and proposals into accessible explanations.
This represents a crucial departure from an old mode of planning and research into one that collapses any hierarchy created or attempted by specialised knowledge, instead making communities themselves the experts in their needs, and returning to them the tools cities use to thrive, as well as the knowledge of what's happening in their community and why.
These presentations are fine examples of how deep understandings of cause-and-effect in planning not only shape the make-up of a neighbourhood or city, but its accessibility to all populations, the health of this population, and how smoothly its businesses can thrive.
Recommendations span from actionable infrastructural redevelopment, to targeting support to the people who need
them, to transformational approaches of the right conversations with the most inclusive approaches, to rubrics that analyse the inclusivity and feasibility of future plans, and even to the creation of new organisational bodies to negotiate and oversee transitions in progress.
We could elaborate on these findings, but each Studio team has created a digest 'poster' that speaks for itself. In addition to these teasers of their insights, SCARP now proudly commits their full reports to our archive of studio projects, and we encourage everyone to read the reasons that led to these conclusions and the nuances of how these recommendations are innovative, practical, and actionable for transformative progress.
We now proudly present the full fundings of
SCARP's 2022-23 Planning Studio. 
Image
Do you represent an organisation in BC with a planning challenge to overcome?