B.Arch. (Oregon), M.Arch.(McGill), M.Sc., Ph.D.(UBC), MCIP, RPP
Associate Professor
Maged's innovative, integrative and experiential approach to teaching has earned him a number of teaching awards including the Killam prize for graduate instruction from the Faculty of Graduate Studies. Since arriving at UBC in 2007 his supervision has included 23 Ph.D. students; and 95 Masters students.
Maged supervises projects, directed studies and internships in a wide variety of topics related to urban design, environmental planning, climate change planning, inclusive planning, public engagement, urban agriculture, multi-media, social media and youth engagement. He employs an experiential learning approach and mentors his students through a sequence of individual and team based projects in real world situations that mimic professional practice.
His teaching activities have directly engaged numerous communities and groups with little or no access to planning professionals. Student work has resulted in a series of professional quality outputs and ongoing relationships that have served both the partner communities and planning students and graduates.
Maged Senbel's research focuses on public engagement in long term neighbourhood planning. He strives to make planning more accessible to both expert and non-expert audiences. His publications include research on public engagement, conflict engagement, neighbourhood scale energy performance and comparative GHG emissions analysis, municipal climate change planning, and different approaches to spatial thinking for people new to design.
He has additionally theorized on approaches for cultivating inclusive and intercultural visions of a compelling urban future. His current projects include worldview and conflict engagement in planning. Past projects include equity and inclusion in planning, planning for refugees, visualization, public engagement, youth engagement, and the use of digital and social media in climate change planning.
Maged's commitment to inclusive planning and just transitions to resilient and sustainability communities is closely aligned with SCARP's vision of Knowledge in Action - Planning in Partnership, and SCARP's mission of generating and transforming knowledge into action by planning in partnership to improve lives and communities and the quality of built and natural environments.
In addition to the profound and increasing challenges that cities have faced since their inception, the many challenges of climate change require cities to employ creative and often radically transformative solutions. Planning for climate change, and for maintaining healthy and resilient communities in the face of finite resources, requires planning agencies to promote agendas of change that are neither popular nor easily realized. Maged's work seeks to facilitate this transformation and to contribute to its fair and inclusive implementation.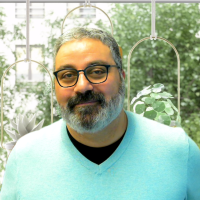 Research and Specialties
Climate change
EDI perspectives and practice
Measurement and visualization in urban design
Public engagement and partnerships