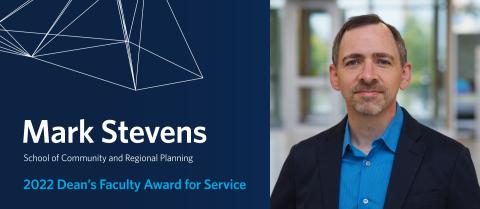 The School is delighted to share with you that SCARP Associate Professor Mark Stevens is be one of the recipients of the Dean's Award for Service this year!
About this award
The Award for Excellence in Service is presented by the Dean of the Faculty of Applied Science. It is designed to recognize faculty who through leadership, service and administrative activates make substantial positive high impact contributions to their Departments, Schools and the Faculty as a whole. It is through these efforts that we are able to provide our students with the highest quality educational experience.
Dr. Mark Stevens joined UBC in July 2009. He has professional experience as a natural resources planner for a city government and a regional planner for a council of governments in the state of Oregon.
Mark's research interests center on evaluating the effectiveness of local and regional government land use planning efforts, with a goal of producing new knowledge that can help communities anticipate and adapt to changes according to the principles of sustainable development. He has particular interests in plan-making and implementation, growth management, natural hazard mitigation, and legal issues in planning.
As Program Chair of SCARP's Masters of Community and Regional Planning program, Mark was at the helm of its substantive curriculum redevelopment, as well as this year's accreditation projects. 
Full citation of Mark's award:
Our director Heather campbell shared a few words in celebration of Mark's achievement: 
Individually and collectively we owe Mark a huge amount for his commitment to ensuring that the MCRP program lives up to our educational aspirations. The School, and more especially, our students, the planners of tomorrow, are benefitting hugely from this dedication. Mark has also shown immense stoicism in the face of the School's age of growth and development. I see this as an especially significant award, given as it is for service, and hence the activities which so often go unnoticed, and certainly without acclaim, yet underpin the success of any academic unit.