Nora Angeles
Dipl., B.A.,M.A., PhD. (Queen's University)
Associate Professor, Admissions Chair, joint appointment with GRSJ
Leonora (Nora) C Angeles, in addition to her appointment at SCARP, is also:
An Associate Professor at UBC's Women's and Gender Studies Undergraduate Program
An Associate Professor and Director at UBC's Institute for Gender, Race, Sexuality and Social Justice
The Graduate Program Advisor of the Centre for Women's and Gender Studies.
(Formerly) a Faculty research associate at the UBC Centre for Human Settlements, where she was involved in a number of applied research and capacity-building research projects in Brazil, Vietnam and Southeast Asian countries.
Nora's continuing research and interests are on community and international development studies and social policy, participatory planning and governance, participatory action research, and the politics of transnational feminist networks, women's movements and agrarian issues, particularly in the Southeast Asian region. Her inquiries include:
GENDER, COMMUNITY AND INTERNATIONAL DEVELOPMENT PLANNING
gender analysis, gender mainstreaming and other gender planning related tools, including feminist critiques and perspectives on the integration of gender and other social axes of difference and diversity in community planning and international development work. 
PARTICIPATORY PLANNING AND GOVERNANCE
conditions, factors and principles that contribute to the democratization of governance and planning processes; opportunities and constraints in civic engagement for deliberative local governance, including those that relate to the challenges of political decentralization, participatory budgeting and use of participatory planning tools such as Participatory Rural Appraisal; understanding the context of public participation and community organizing using the lenses of social identities and difference including class, gender, race, sexuality, (dis)ability and life cycle.
TRANSNAlTIONALISM AND FEMINISM
politics and planning practices of national and international women's organizations and other social movements from transnationalism studies perspectives.
PARTICIPATORY ACTION RESEARCH, FEMINIST RESEARCH and OTHER QUALITATIVE RESEARCH METHODOLOGIES
principles, ethical considerations, and challenges in doing (feminist) Participatory Action Research within community-university partnerships and capacity-building projects in local and international contexts.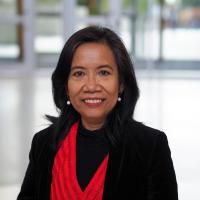 Affiliations
UBC Women's and Gender Studies
UBC Institute for Gender, Race, Sexuality and Social Justice
Centre for Women's and Gender Studies
Research and Specialties
Community development / social planning
EDI perspectives and practice
Participatory action research
Participatory planning
Planning institutions
Planning policy
Social movements
Southeast Asia
Transnational development