Heather Campbell is a Professor at UBC SCARP, where she has served as Director from 2018 to at least 2023. 
Until 2018 she was Professor of Town and Regional Planning at the University of Sheffield, where, amongst other roles, she was Head of Department and Advisor to the Vice-Chancellor and Chair of Council on strategic matters related University/Community partnerships. She has served on many professional and academic bodies, including being the Deputy Chair of the Royal Town Planning Institute's Education Commission and Deputy Chair of the UK Research Assessment Exercise's Sub Panel for Town and Country Planning.
She studied Geography at the University of Durham (UK) before going on to complete an accredited masters degree in Town and Regional Planning and a PhD, both at the Department of Town and Regional Planning at the University of Sheffield (UK). Following an Economic and Social Research Council post-doctoral fellowship, she was appointed as a Lecturer at the University of Sheffield, becoming a full professor in 1999.
Heather is a Member of the Royal Town Planning Institute and was the first woman at the University of Sheffield to be elected a Fellow of the Academy of Social Sciences in 2010.
She was one of the founding editors of the international journal Planning Theory and Practice, and is currently the Senior Editor.
Heather's research interests are motivated by a concern that the opportunities available to people in the places where they live, work and play impact their life chances and experiences. There are two interconnecting strands to her research.
Firstly, a concern with how public policy interventions, including planning practices can yield better, more just and equitable, outcomes. She is concerned with the interface between planning theory and practice and her writing includes publications examining issues of ethical value, social justice and the public good.
The second strand to her research turns the focus away from planning practice to the research community, asking what needs to change in universities to enable greater public benefit to be achieved. She has practical and research experience of the interface between universities and the contexts in which they are based. This includes leading the Economic and Social Research Council / N8 Research Partnership inter-disciplinary project Knowledge That Matters: Realising The Potential of Co-production, which examined the potential of co-production with non-academic communities to generate research that would better support transformational change.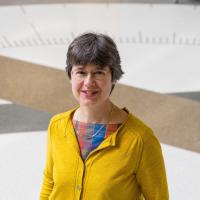 Research and Specialties
Planning policy
Planning theory
Post-pandemic planning
Public engagement and partnerships
Strategic planning and transformative change