Students enrolled in Canadian accredited university planning programs (including SCARP!) for the 2021- 2022 academic year are eligible for a free CIP membership. More details
The Canadian Institute of Planners, the national organization of professional planners in Canada,
is hosting a new, free student symposium on November 8 (World Town Planning Day)!
In anticipation they have opened a call for proposals...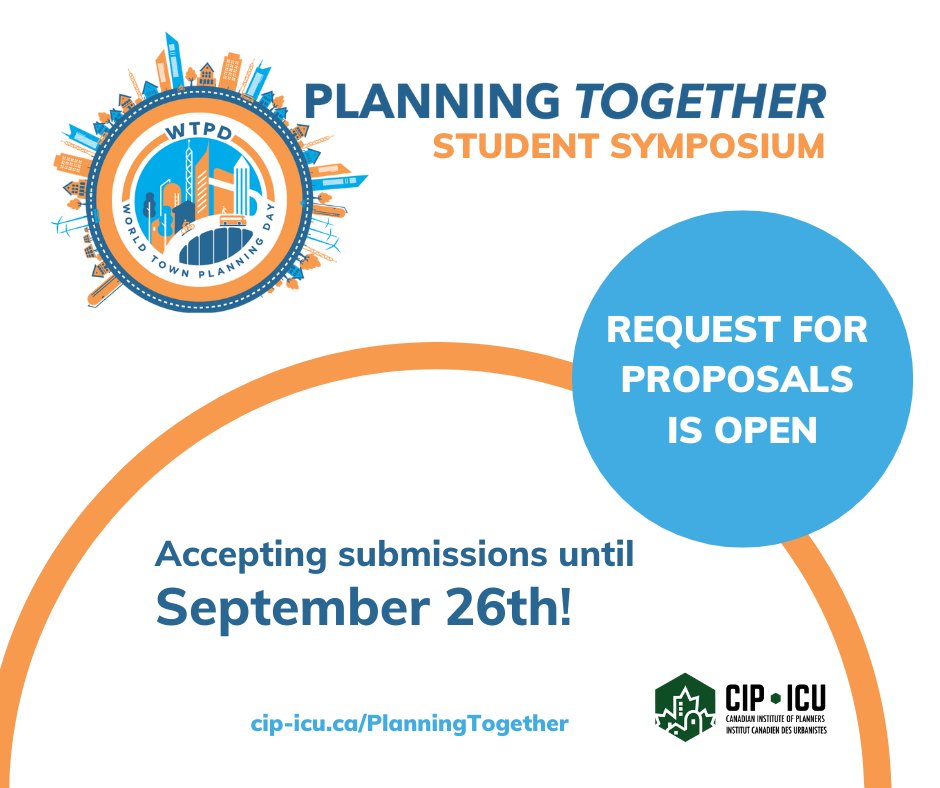 Celebrating November 8
Argentinian professor Carlos María della Paolera started World Town Planning Day in Buenos Aires in 1949 to recognize and promote the role of planning in creating livable communities. Today, planners from over 30 countries celebrate the occasion with lectures, school competitions, fundraising, charity events, planning awards and street festivals.
Call for abstracts
Since 2018, students and professionals across Canada have come together to present and discuss cutting-edge and emerging research topics in geography and planning. On the occasion of World Town Planning Day, November 8, 2022, the Canadian Institute of Planners will host an online, planning student research symposium to gather, share, and learn from one another.
A team of CIP student members from across Canada will review the submissions and develop a dynamic and engaging national online student conference with a diversity of voices, perspectives, and topics. The conference will be free to attend (capacity is limited and pre-registration is required) and will be recorded for future viewing.
Please note that the submission process often results in a high level of interest and CIP is unable to guarantee that all submissions will be accepted; however, those not selected may be considered for future programming or moderating opportunities.
Submitting a proposal
Who can submit?
We welcome students and recent grads from to present anything from their own individual research to a group class project.
Priority will be given to CIP student members. Not a member? All students can join for free!
Themes and streams
The symposium will feature student research and projects that advance CIP's vision of Inclusive and vibrant communities, respectfully connected to the natural world, for the well-being of current and future generations. This includes, but is not limited to, presentations that:
Centre on the complex planning challenges of Climate Change, Healthy Communities, and Housing;
Advance understanding of, and solutions for, more equitable planning with a focus on Reconciliation and Equity, Diversity, & Inclusion;
Focus on innovative practices and ideas that are likely to shape the careers of planners in the future;
Are applicable to regional, national, and/or international audiences; and,
Incorporate diverse voices and perspectives that are not traditionally considered in planning practice.
Proposals should be targeted for the intended audience, which is primarily comprised of planning students across Canada.
What kind of proposals are we looking for?
Abstracts can be submitted in English or French;
Presentations should be 10-15 minutes in length;
Formats can include a panel or single-topic webinar;
Presentations may include student-led research as well as class projects;
The inclusion of more than one speaker/contributor is welcomed.
This is a great opportunity for those who have never presented at a conference before to get experience!
How to submit
If you have a presentation in mind, we'd love to hear from you: Please create a Submittable account and complete the application form. The submission deadline is September 26 2022, at 5:00 p.m. ET.

Key Dates
September 8th - Call for abstracts opens
September 26th - Call for abstracts closes
Early October - Abstract Review
October 12th - Notifications to successful applicants
November 8th - Planning Together: World Town Planning Day Student Conference
Technical Requirements
Reliable wired internet connection or WIFI;
Integrated headphone/speaker headset that can connect to a computer or laptop;
Functioning webcam.
Note: All webinars will be recorded and available in the CIP Professional Learning HUB, which is open and free to all CIP members.
The time commitment for online presentations is approximately:
Reviewing and signing speaker agreement (10 minutes)
Conducting technical rehearsal one week prior to live webinar (15-20 minutes)
Live webinar presentation (1 hour and 30 minutes)
Recognition
As this is a volunteer opportunity, in appreciation of the presenters' time and expertise, CIP will provide individual recognition through its social media and communication platforms. An official thank you letter will also be issued upon completion of the presentation. No financial compensation will be provided.
Abstract/Proposal Writing Resources
If you would like additional information on how to write a conference abstract, here are a few web articles to refer to:
Tuesday, November 8, 2022