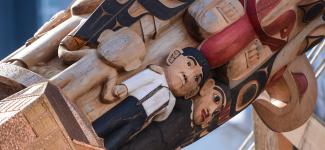 February 9, 2023
Reconciliation + Design Series: Synthesis
About
Background
This reconciliation + design dialogue series is co-designed and led by UBC Civil Engineering Assistant Professor of Teaching Pam Wolf and Civil Engineering graduate student Danilo Caron.
The reconciliation + design series is supported by Applied Science Dean James Olson, and Associate Dean of Equity, Diversity and Inclusion, Dr. Sheryl Staub-French. Participants include UBC Applied Science students from the faculties of Engineering, School of Architecture and Landscape Architecture, and School of Community and Regional Planning, as well as external guests. These dialogues are a scaled Indigenization complement to decolonization curriculum. Applied science invites anyone who reflects on reconciling their design processes to join the conversation. This is an interdisciplinary conversation on reconciliation and design.
The speakers are Indigenous change-makers. We amplify their voices and listen to understand. Students and faculty practice authentic, experiential learning in dialogue circles, learning to weave together these Indigenous perspectives, ways of knowing, and ways of being, with our own as designers. The breakout room facilitators are students. They will be practicing their skills leading dialogue circles.
The annual cycle of four topics spoken to by Indigenous leaders and elders is listed below.
Next session:
Dialogue 2: Synthesis
Speaker: Colleen O'Toole P.Eng. – Project Manager
Location and time TBA
Image
Colleen has worked with Kerr Wood Leidal Associates Ltd. since 2008, after completing a degree in Environmental Engineering at the University of Guelph.  She honors her family traditions through her Indigenous heritage and her vocation. Over the past 15 years she has become a trusted advisor to numerous municipal and Indigenous clients. 
A people oriented, problem solver, Colleen understands that communities are so much more than the civil utilities and infrastructure that serve them.  She loves to bring together multi-disciplinary teams to support community engagement and development of plans and designs guided by local knowledge holders that reflect the culture, traditions, and values of the specific communities she serves. Colleen specializes in asset management, sewer condition assessment and rehabilitation projects and is known for her proactive, problem-solving, relational, and communicative approach to managing projects. 
Colleen has extensive workshop facilitation experience with Indigenous communities specifically focused on adult education and capacity building.  She is a registered Professional Engineer, Master Municipal Construction Documents (MMCD) Certified Contract Administrator, and holds an International Association of Public Participation BC (IAP2) Planning certificate.
Registration details coming soon.
Date & Time
Thu, February 9 : 4:30pm